Your Parish Council is very happy to announce that we have secured funding for defibrillators to be installed at two locations across the village.
We applied to the 2022 Community Fund of the Energy From Waste facility (Incinerator) at Javelin Park earlier this year and have now been told that we have been successful in our request for £3,000
Find out more information about the community fund here:
https://www.ubbgloucestershire.co.uk/community-liaison-group
Selecting Locations
Finding locations in the village was our next task as currently, the parish has no public land under its control! Locations need to be publically accessible, central to the residential areas they serve, and have a permanent power supply nearby.
Working together with the school and Crest Nicholson, we have identified two perfect locations, one at the entrance to Hunts Grove and one adjacent to the school gate on Harrier Way. The map below shows these locations. These are subject to a final site survey nearer the installation date. We will update via this website on any progress or changes.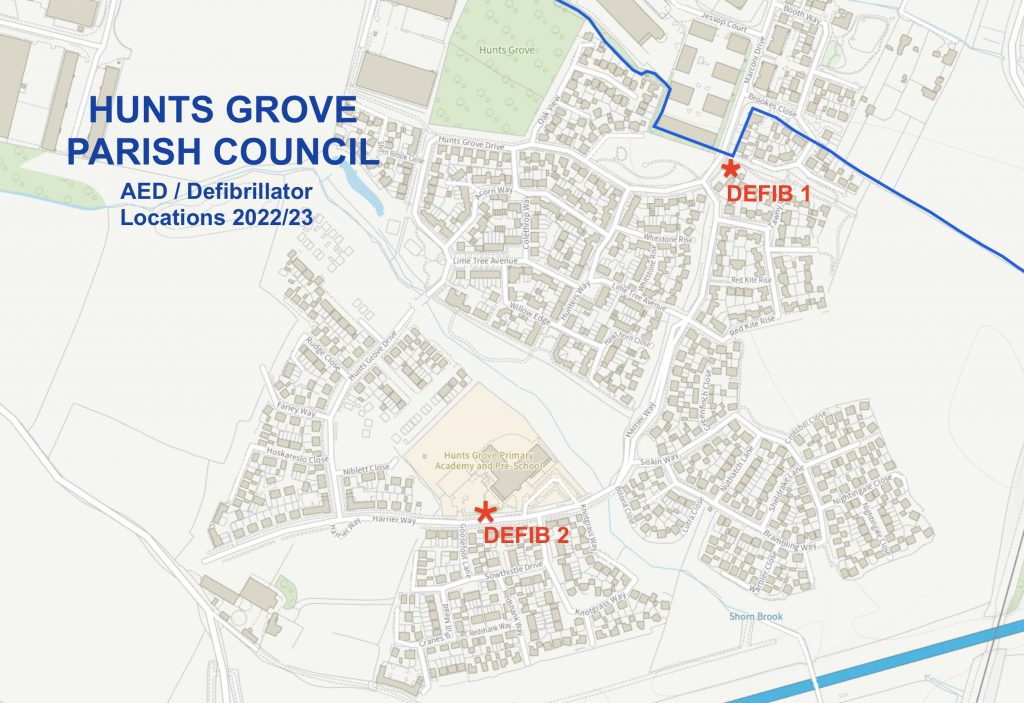 Local Procurement
Your council would like to support local businesses and services wherever possible and financially viable. This is something we considered early on in the setup of the council as part of our developing procurement policy. Essentially, local businesses benefit from an additional weighting factor in our selection process.
In this case, Passion First Aid Ltd, a local Hunts Grove company, has been a strong advocate to councillors over the last couple of years on the benefits of having defibrillators accessible to residents and the public. Following a procurement process comparing multiple quotes, the council was delighted to confirm an order with Passion First Aid Ltd.
Delivery & Installation
We are expecting delivery of the two new units by January / February and installation will follow shortly after. We will keep you up to date with progress – watch this space!