Can we have one final push to show support for our Hunts Grove Management Company campaign? Please share with friends and neighbours now! Let's get to 500 signatures this week!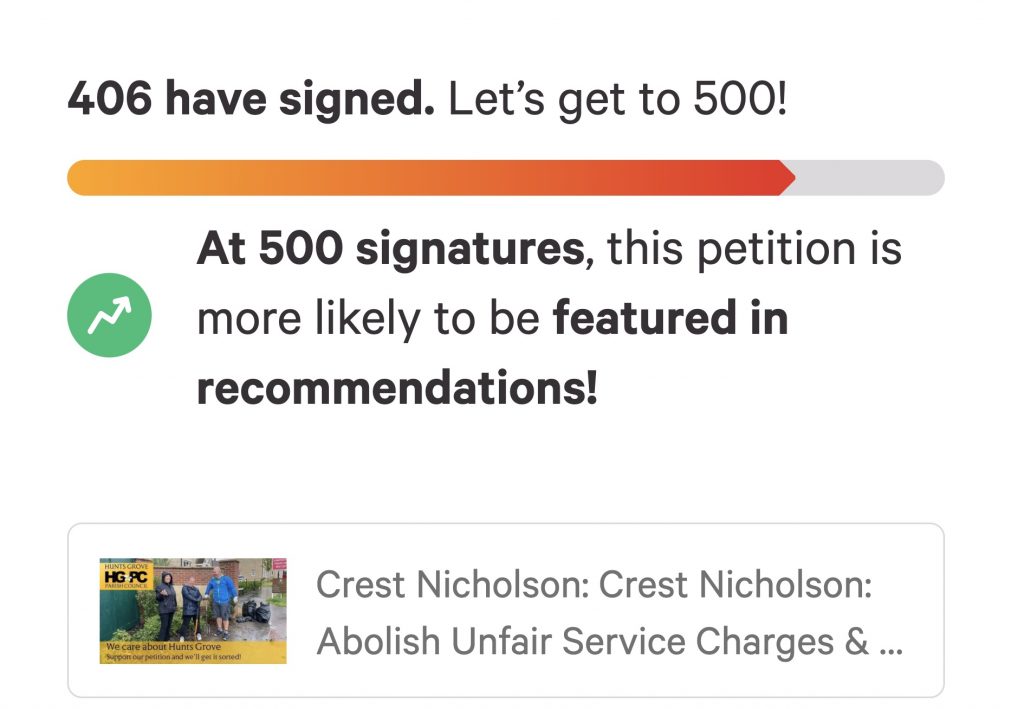 Things may appear to be quiet these last couple of weeks with our campaign to abolish the Hunts Grove Management Company, however, we have been very busy working behind the scenes on consulting with stakeholders such as the housing associations and local authorities on the details of our proposals. All have been supportive, which has been fantastic. One even commented on their positive experience at another village in Devon that did exactly what we are proposing. This was great to hear and in fact, that village council (Cranbrook) has been helping us by sharing their experience.
Key Meeting on Tuesday
Our stakeholder meetings so far have been a huge success in identifying important topics and demonstrating support for the Parish Council plans for local maintenance of the village. The District Council open spaces and planning teams have been fully supportive of these proposals and in fact, are already assisting the parish council in adopting Phase 1 of the development right now. At the last meeting, the landowner Colethrop Farms Ltd (a signatory on the management scheme and leases) offered their full support for these changes.
This only leaves Crest Nicholson with an unclear position as they did not participate in the last meeting, and have chosen not to respond to our letters or this campaign.
So, what next? Well, our MP Siobhan Baillie, is helping by bringing all the legal stakeholders together again on Tuesday. The Parish Council hopes that Crest Nicholson will attend and extend their support to these proposals.
We'll keep you informed of progress. In the meantime, can we ask for your support by getting neighbours to sign our campaign? We are at 406 signatures and 500 is within reach!